SUMMER PROGRAMS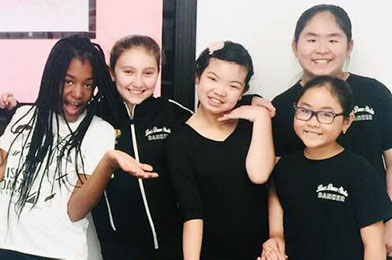 Fill your summer with the joy of performing arts at Lisa's Dance Studio! From July through August, LDS offers many of your favorite classes, as well as fun camps and challenging summer intensives.
You may participate in person or on Zoom.
We still have availability in our:
Thursday 6:15-7:00, Teen Hip-hop Class, (Ages 13-18/Intermediate)
Monday 7:00-7:30, Lyrical Jazz Class, (Ages 8-12/Beginner)

Summer Hours
Summer Classes end August 18th.
MONDAYS 5:00 pm - 7:30 pm
TUESDAYS 6:30 pm - 8:15 pm
THURSDAYS 6:15 pm - 9:00 pm
Follow Lisa's Dance Studio on Facebook and Instagram to keep informed of all that's happening here at LDS.
Summer Schedule
MONDAY
5:00 - 6:00
Level 3.5
Tap TEAM
6:00 - 7:00
Level 3.5
Jazz TEAM
7:00 - 7:30
Level 3.5
Lyrical Jazz
TUESDAY
6:30 - 7:45
Levels 3.5-5
Teen Ballet
7:45 - 8:30
Beginner Pointe
THURSDAY
6:15 - 7:00
Level 3.5
Teen Hip-hop
7:00 - 8:30
Levels 4 & 5
Teen Jazz TEAM
8:30 - 9:00
Level 5
Teen Tap TEAM