SUMMER PROGRAMS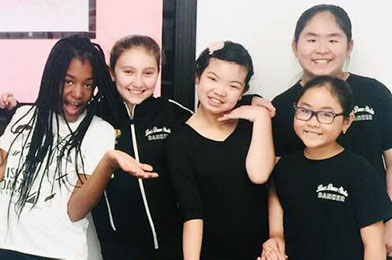 Fill your summer with the joy of performing arts at Lisa's Dance Studio! From July through August, LDS offers many of your favorite classes, as well as fun camps and challenging summer intensives.
Summer Classes
Thursday, July 6th through Wednesday, August 16th

Summer Hours (see schedule below)
Follow Lisa's Dance Studio on Facebook and Instagram to keep informed of all that's happening here at LDS.


The Tuition Rate is for the entire 6 weeks.
Mondays (ongoing - throughout the summer and fall)
4:00-7:00 pm / Private lessons by appointment ($50 per ½ hour, $100 per hour)
7:00-8:00 pm / Beginner-Intermediate Tap (teen and adult)
8:00-8:30 pm / Ballet Barre and Jazz Isolations (teen and adult)
Tuesdays (July 11th through August 15th)
3:15-4:00 / P&K Combo – ballet, tap, jazz – ages 3-6, $95.00 for entire 6 weeks
4:15-5:00 / P&K Combo – ballet, tap, jazz - ages 3-6, $95.00 for entire 6 weeks
5:15-6:00 / P&K Combo – ballet, tap, jazz - ages 3-6, $95.00 for entire 6 weeks
6:00-6:30 / Hip-hop – ages 4-6, $90.00 for entire 6 weeks
6:30-8:00 / Open Ballet - Technique – Levels 2, 3, & 4, $148.00 for entire 6 weeks
8:00-8:45 / Open Lyrical – Technique - Levels 2, 3, & 4, $95.00 for entire 6 weeks
Wednesday (July 12th through August 16th)
5:00-5:30 / Hip-hop – ages 4-6, $90 for the entire 6 weeks
5:30-6:30 / Ballet technique – Levels 1&2 – ages 6-11, $97.00 for entire 6 weeks
6:30-7:30 / Jazz technique – Levels 1&2 – ages 6-11, $97.00 for entire 6 weeks
7:30-8:00 / Hip-hop – Levels 1&2 – ages 6-11, $90.00 for entire 6 weeks
8:00-8:45 / Open Teen Hip-hop – ages 11-17, $95.00 for entire 6 weeks
Thursday (July 6th through August 10th)
5:45-6:45 / Teen TEAM Hip-hop, $97.00 for entire 6 weeks
6:45-8:00 / Jazz TEAM technique – levels 2.5, 3, & 4, $148.00 for entire 6 weeks
8:00-8:45 / Tap TEAM technique – levels 3&4, $100.00 for entire 6 weeks
--------------------------------------------------------------------------------------------------